Alright, I know this isn't technically my first post, but it's my first outfit post. Everyone knows that it's important to look your best when meeting people so you can make a good impression. However, if you have never been to the office before, you haven't checked out other women's outfits (I did my interviews over the phone and Skype because I was away at school). For your first day, I would recommend something professional, but with a little pop of personality because you will probably be meeting a lot of new people.
On my first day at this internship, I wore this blue dress that I've had literally forever (I wore it to my National Honor Society induction when I was 16!)
My mom took my picture in front of the front door of our house every year on the first day of school, so she wanted to get a picture on my first day of work, too.
I love that it's bright blue, which is a more fun alternative to the black that is usually prevalent in the office. It has a black ribbon that ties on the back (you can't see it in this picture) so I wore my black pumps. I put on my lucky pearl earrings and lucky Alex and Ani bracelets and hit the ground running!
The Breakdown
Business:
This dress is a classic style with shoulders covered. I wore simple accessories including classic black pumps.


Casual:

The bright blue color makes this dress memorable and the cutouts at the top are fun and hip without being too revealing.

Unfortunately, because this dress is so old, it isn't sold anymore. I bought it in the juniors section of Nordstrom and never thought I would still be wearing it!

Here are some dresses that I think are similar and equally appropriate for your first day, or any day!



Splurge
Kate Spade offers this dress with a transparent overlay at the top and a striking blue/purple color. The shoulders are a little bare, so especially in the winter this would work great with a black blazer. It's on sale now!
Save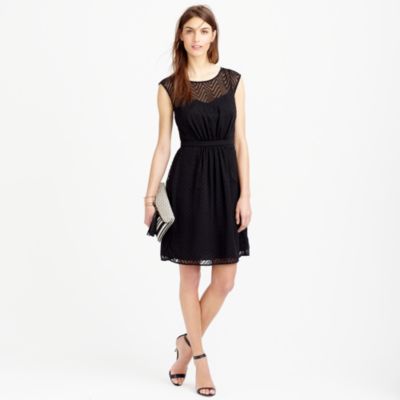 This dress by J. Crew has a similar feature at the top, but in a chevron print that continues in the overlay. It is also available in a pretty orange color.
Steal
This dress is so summery and cute! It mixes a classic silhouette with a cute striped skirt to bring the nautical twist that is really popular right now. It would look great with nude shoes, like the model is wearing, but I would pick something less strappy and more covered, like a pair of classic nude pumps.
Any of these outfits would be great for a day in the office that isn't your first day, too.
Here's to a great first day!
xoxo,